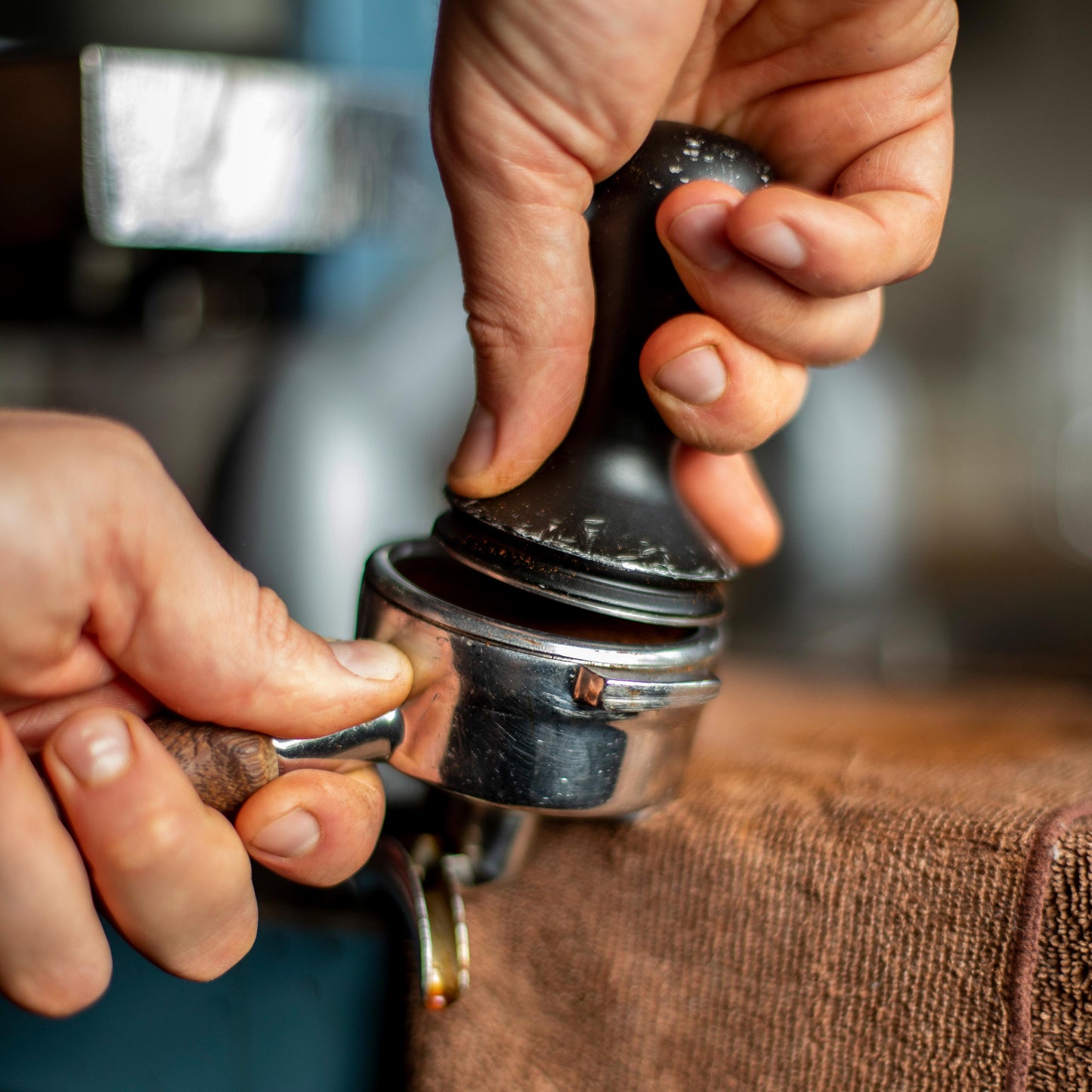 Tamp that! How to tamp your coffee puck
How hard should I tamp my coffee is a question we hear often from home baristas. 
To give you more of an idea about how hard to tamp, let's first look at why we tamp our espresso puck.
WHY TAMP?
We compact (tamp) the coffee in our portafilters so that the water being pushed through the basket from the group head has a chance to evenly extract (soak) all of the grinds in the portafilter. 
If you just put coffee in a basket and don't tamp, the water pushed through will find the easiest path and you will get uneven extraction.
Ultimately tamping coffee is to compress coffee grinds and create an even espresso extraction. 
WHAT IS MAXIMUM DENSITY?
Once you have tamped your coffee puck and the tamper has no more give in the puck,  you have reached maximum density - so no more pressure will help. There is literally no more space to compact between the coffee grind particles.  
"I'm tamping really hard but my coffee is still gushing out of the machine" Well the problem here is not tamping but grind adjustment. 
Tamping harder really has no impact on the flow rate of your espresso machine. 
So the myth of changing your tamp to adjust the extraction of your espresso is flawed. Changing your grind and tamping consistently is really the only thing that will help with getting an even extraction. 
WHAT TECHNIQUE SHOULD I USE?
Tamp tap tamp. Umm that's a hard no! 
The old school way of tamping then tapping the side of the portafilter with the top of the tamp is a sure-fire way to get a really poor extraction. You cause gaps on the side of the basket and can crack the puck. It's bad so stop. If you tap your compacted puck you will ultimately create channels in which water will travel causing uneven extraction.
WHAT ABOUT A LITTLE TWIST AT THE END TO POLISH OUR GRINDS?
Ok well we have definitely been guilty of doing this. To be honest it's actually unnecessary and really does nothing except run the risk of causing the coffee puck to be uneven.  
SO WHAT'S THE BEST WAY TO TAMP?
Well in our humble opinion the best way to tamp is with an auto tamper like a puqpress. Taking out the human element is really the key to consistency.
If you're at home we suggest that you tamp your coffee hard enough for the puck not to fall out when the portafilter is inverted,  but not hard enough to make your body strain. firm but straight.  Making sure that your tamp is even and on a flat surface. You should be standing straight with your fingers wrapped like holding a torch. Push down with the tamper keeping your elbow inline with the portafilter. Keep your wrist in a straight line with your hand and use a smooth motion. No need to twist or tap. 
CREATING GOOD HABITS.
Over tamping can cause lots of issues and not just in our coffee but in our body. Baristas with RSI from repetitive tamping is a real issue. So if you own a cafe or restaurant you may want to look at adding an automatic tamper to your equipment must haves. 
WHAT'S THE BEST TAMPER TO USE?
There are so many great tampers on the market. You can find a tamper to fit most personalities and machines. 
There is the Pullman range.
The plastic fantastic Barista hustle tamp.
Saint Anthony industries beautiful handcrafted tamps 
and as discussed the puqpress
Making sure you have the correct size tamper is also key for consistent even tamping.  
We have compiled a list of machines recommended tamper sizes to help (coming soon).
We also stock a range of tampers for domestic and industrial machines. 
So I hope that our little blog about tamps helps up your barista game. Reach out if you need any more information. 
Hit us up on Insta @grouchandco