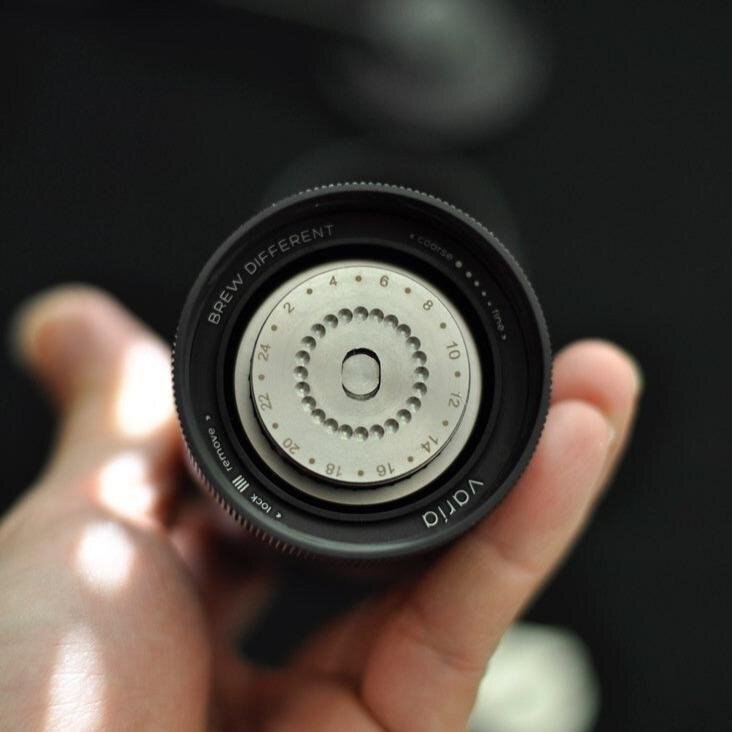 Top 5 Coffee Hand Grinders 2021 update
It's been a hot minute since we looked at our top 5 hand grinders but if anything lockdown taught us is that coffee is life. So here are our Top 5 hand grinders in no specific order.
1. Comandante Hand Grinder C40 MK3 ~$470
The Comandante C40 (MKIII) is built for true coffee lovers (like us). It's a beautiful looking grinder, with a 100% natural oak knob. The body of the grinder fits beautifully in your hand which makes grinding with the Comandante more of an experience then simply a process.
The burrs are extremely durable, made from high nitrogen stainless steel. The burrs are bloody sharp and very durable which help produce uniform coffee grounds suitable for all brew methods. From French press to Turkish coffee – the Comandante grinder can handle the grind..
The Comandante was designed and produced in Germany. The team have done some serious RND to produce a quality and durable product. A reliable grinder is one of the most important pieces of equipment in your home brew setup. We also really appreciate the presentation of this grinder, it comes in as one of our all time favourites.
FEATURES:
Weights approx 600g
Glass bottom transportable jar which is a bonus and a curse (don't be dropping it💔)
Wenge Veneer
Clear lid
40-50g of beans at a time
Is suitable for espresso and filter
Steel drive axel
Conical burs.
The beautiful hand feel - the wood Veneer makes it softer to hold than metal or plastic grinders.
2. Varia Hand Grinder: Stainless Steel Burr - $195
 For us, the Varia is the best by far in the top 5 for packaging and portability although its footprint is rather large (its carry case is bigger than most)
Its first impression is that like the comandante the smooth effortless glide of the grind handle is an absolute joy compared with more entry-level hand grinders (i'm looking at you porlex)
With great consistency and particle size, this grinder is perfect for those who want to be able to grind espresso and for filter coffee.
" Created for coffee enthusiasts and speciality coffee connoisseurs, the Varia Hand Grinder is a high-performance coffee grinder with an advanced burr design + lightweight aluminium body and ultra-smooth drive assembly. The burr set is constructed using high nitrogen stainless steel which is the optimum material for an ultra-hard and sharp edge surface with maximum longevity and resistance. Engineered to achieve the highest performance of grind particle distribution and consistency our burr design utilises advanced geometries and tolerances providing an extremely consistent grind result with a highly refined particle distribution from coarse grind sizes for hand brewing to fine grind sizes for espresso!
Our grinder also features a dual ball bearing drive assembly which ensures an ultra-smooth and stable function. We have also chosen to use an all aluminium body construction that has the drive assembly supports cast in one part for the most strength and rigidity through the torque crank. "
FEATURES:
Lightweight Aluminium Body
Dual Bearing Drive Assembly
Precision 5 Axis CNC'd 38mm Stainless Steel Burr
24 Point Precision Grind Adjustment per 360° rotation. Over 110 x Steps in Total
26g - 28g Capacity
3. The Royal Grinder from Flair Espresso - $290
The Royal Grinder is the latest addition for those who love a quick hand grinder that gives even espresso range grinds. It has a lift, turn and lock adjustment and has 72 steps in the espresso range.
The Royal, as a hand-grinder, was designed with the understanding that "Your grind is king" meaning that it's the most important input that determines the overall quality and taste of your coffee extraction. As such, every feature of the Royal was meticulously designed to ensure the highest performance with the greatest comfort and convenience found in a hand grinder.
This grinder is made by the clever folks at Flair Espresso and is a perfect partner to the fully manual Flair Espresso machine. Saying that it still has the ability to grind for filter and also for cold brew (very course).
The price of the Royal is also very appealing, given the quality feel and speed in which is grinds we think its great value for money.
FEATURES:
Precision engineered aluminium body
Swiss-made, hardened steel burrs with high-efficiency geometry
Lift, turn & lock adjustment sleeve for no-slip, repeatable results
72 individual adjustment steps of .02mm
Full-wrap silicone grip for enhanced ergonomics
Cute roll bag for travelling
A detachable crank with thumb screw
Detachable cup and cleaning brush
Weighs 700g
Dementions 28cm x 9cm x 10cm
Clear lid
Super nice to hold and feels like a good weight
4. Rhinowares Hand Grinder ~$70
 The Rhinowares Hand Grinder is a small but powerful grinder that is perfect for home or travel. It's been made with high-quality material that will last for years to come.
The grinder features conical ceramic burrs to produce well-uniformed coffee grinds which is essential for a quality brew.
It is much lighter than the others listed and would be great for those wanting to travel with weight restrictions. Its grinding motion is smooth but compared to the others you get what you pay for.
The Rhinowares has a convenient 42-gram capacity and can fit directly into an Aeropress or Delta Coffee Press.
FEATURES: 
Quality stainless steel housing makes cleaning easier and reduces static
Tested and certified as food safe by an independent laboratory providing peace of mind
Conical ceramic burrs stay sharp longer, don't rust and are easier to clean
A simple adjustment method for a range of grind types
Ample capacity - can hold up to 42 grams of coffee beans
A convenient and protective carry bag
Smooth grinding motion 
Superior particle size distribution
It comes in two sizes, Compact or standard.
A couple of helpful hints for adjusting the appropriate grind:
- For grind to suit Aeropress, tighten nut all the way, then ease off half a turn
- For French Press, ease off 1.5 turns
- For a v60, tighten the burrs all the way, and then go half a turn back. Some further adjustment may be required from there depending on the specific beans used. The suggested ratio is 60g/litre.
- For a Moka pot, which is somewhere between drip and espresso, adjust your grind to the finest level (adjust so that the burrs are touching) then open up a notch or two.


5. Hario Smart G Electric Hand Grinder ~$200
So technically this grinder isn't really a fully manual hand grinder but more of a combo.
The Hario Smart G Electric Hand Grinder is a hand grinder combined with an electric grinder, allowing you to choose to either grind your coffee beans automatically or manually. Choose between the standard crank handle or insert the electric grinder to grind faster and more evenly.
The Grinder body is made of BPA which make it very light, the total weight of the whole unit (including motor) is approx 500g. With stepped adjustments and easy to move settings this grinder is perfect for filter coffee grinding. We have yet to used the grinder to produce espresso grinds but would expect the grinder to be able to produce coarse espresso range grinds, suitable for mocha pots and lever machines.
A fantastic feature of this grinder is its usability. For people who have a disability that affects their hands or movement of the upper body this grinder is a wonderful addition to their coffee set up.
The motor is charged by a USB cable and powers up a lithium-Ion battery which takes about 3 hours to fully charge. While its battery life is touted at 30mins we found you cant grind for longer than 10mins consistently.
This grinder is perfect for those who want to travel with coffee and grind as you go with ease. It's kind of a lazy persons hand grinder and for that we love it!!!
Features:
Colour: Black
Dimensions: 36mm (W) x 36mm (D) x 180mm (H)
Capacity: 35g
Materials: Stainless Steel, Silicone Rubber, Polypropylene
Ceramic conical burs
USB rechargeable (yep you can even charge it in your car 😲)
So that wraps up our 5 top hand grinders for 2021. We hope that it helps with your purchasing journey and or gives a little insight into the many many options that are out their in the coffee world.
Happy grinding