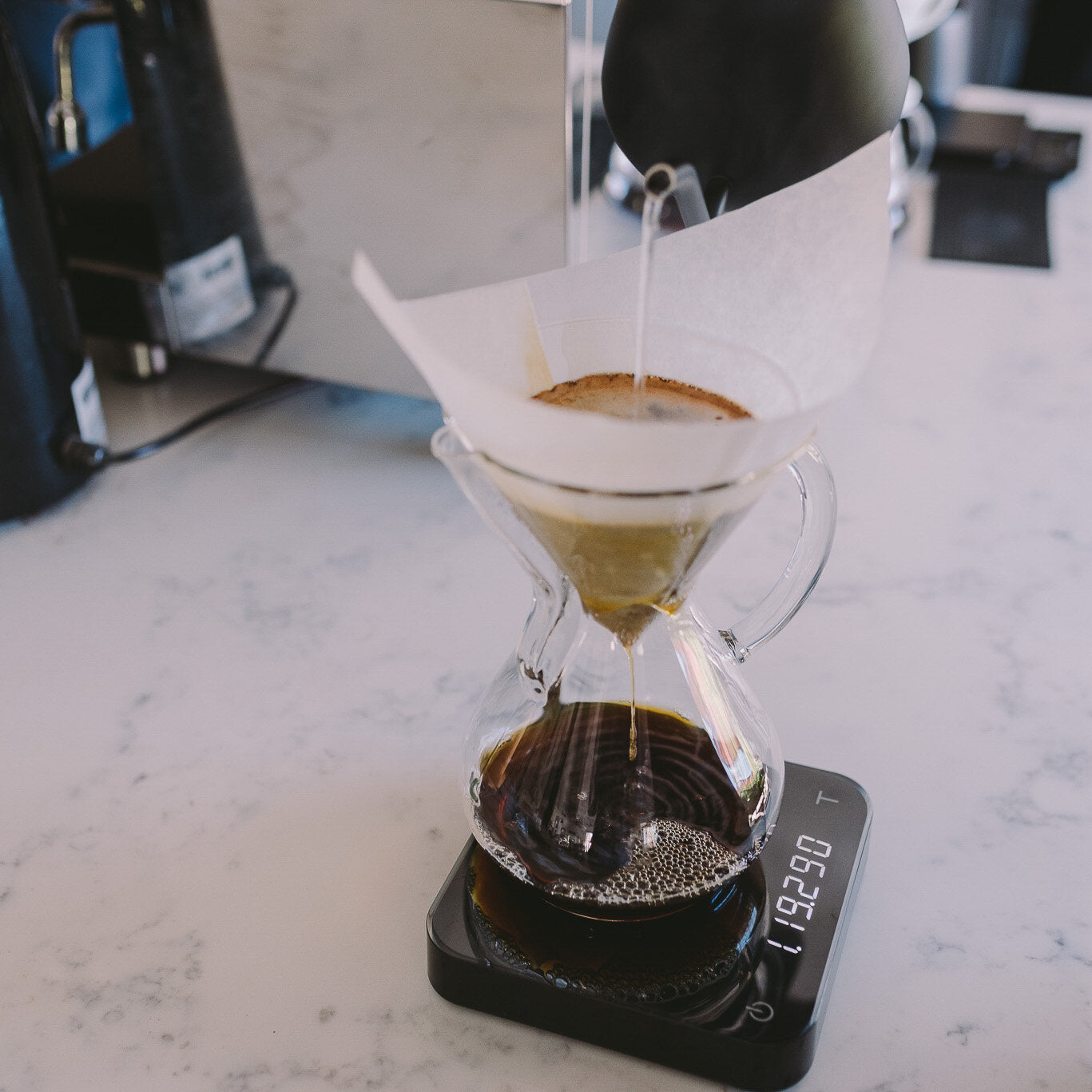 Who doesn't love these well designed beautiful filter coffee brewing devices?  
The Chemex® was invented in 1941 by the eccentric chemist Dr. Peter Schlumbohm. During his career his focus was making everyday object more attractive, enjoyable to use and functional. His goal with the Chemex® was to create a product which would make brewing the perfect cup simple, but also stylish and beautiful. Here is our simple Chemex recipe, and never fear if brewing on a Chemex is too much work for you, they also make great vases (lol).
FOR A 6/8 CUP CHEMEX USE 37.5G OF COFFEE TO 600ML WATER.
PICTURED IS THE 6/8 CUP GLASS HANDLED CHEMEX.
CHEMEX 3 cup recipe
WHAT YOU NEED:
Chemex (3 cup)
Chemex filters
Scales
Timer
18.75g coffee
Goose Neck Kettle
300 ml water (94°)
STEP ONE
Heat water to 94°
Measure out 18.75g of good quality speciality coffee and grind it to a medium coarseness (think table salt between your fingers).
Fold filter papers (if not pre-folded) as per the box instructions. Place filter into your Chemex, ensuring the thickest side sits against the spout of your Chemex.
Rinse the filter paper with a small amount of water. Empty the water from Chemex (fold filter in place and pour water out of the spout).
STEP TWO
Place your coffee into Chemex, tap the sides of your Chemex to ensure your coffee bed is as flat as possible.
Place your Chemex onto your scales and tare, so you are starting on zero.
STEP THREE
Start by adding 36 ml of water (double the amount of coffee in your filter) over 5 seconds. Pour water evenly onto your coffee bed, making sure that all the coffee is in contact with water.
Let your coffee bloom for 30 seconds. Agitate the slurry by stirring
clockwise three times.
STEP FOUR
After 30 seconds start pouring water in a concentric motion (circular), avoiding pouring water directly onto the sides of your filter paper.
Pour at a steady and consistent rate.
Your target is:
100g water poured at the 1 minute mark. 300g water at 2 minute mark.
Leave your coffee to brew and draw down. The water should take approximately between 2 mins 50 second and 3 mins 15 seconds to drain from the filter chamber.